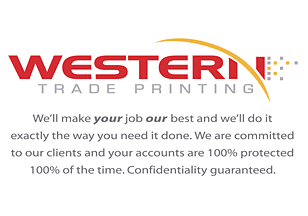 Western Trade Printing, Inc.
Western Trade Printing is a well equipped TRADE ONLY printer specializing in high quality, full color, sheetfed printing. Offering wholesale pricing to resellers of print since 1998, we are known for exceptional service, expertise, and value. We take great pride in our team and their combined industry experience. We house the only 40" multi-color and 40" perfecting press in the San Joaquin Valley.

We are successful because we work diligently to help our partners succeed. Our estimating department is dedicated to finding the optimum method of producing your project in order to pass on the savings to you.

Send in your estimates now and see for yourself how Western Trade Printing can bring you exceptional service, expertise, and value.
Employees - 25
Print
Collating
Automatic Collating
Folding
Automatic Gate Folding
Consultants
Consulting Services
Foil Die Cutting Engraving
Die Cutting
Finishing
Drilling
Certification
FSC Certification
Mailing Fulfillment
Fulfillment
Folding
General Folding
Printing Other
General Sheetfed Printing
Binding Other
General Trade Bindery
Certification
Green Business Practices Certification
Binding Other
Hand Assembly
Printing Other
High Quality Large Sheetfed Printing
Digital
Larger than 11x17 Digital Printing
Binding Other
Loose Leaf Binding
Collating
Manual Collating
Folding
Map Folding
Finishing
Micro Perforating
Printing Other
Minority Owned Printer
Binding Other
Note Pad Binding
Finishing
Numbering
Perforating
Label
Pressure Sensitive Label Printing
Printing Other
Printing with Bindery
Printing with Coating
Printing with Computer-to-Plate
Publication
Publication Printing with Complete Bindery
Publication Printing with Mailing and Fulfillment
Finishing
Round Cornering
Saddle Stitching
Folding
Score Perf Folding
Finishing
Scoring
Mailing Fulfillment
Shrink Packaging
Binding Other
Spiral Wire Binding
Stitching, Side Wire, Gathering, Glue-on Covers
Finishing
Trade Finisher
Printing Other
Trade Only Printing
Product
Product
Annual Reports
Brochures
Calendars
Catalogs
Maps
Pamphlets
Posters
Training Manuals
Equipment
28x40 Heidelberg 2color Perfector
28x40 Heidelberg 4color with in-line AQ coater/CPC
19x25 Heidelberg 5color with in-line AQ coater/CPC
Color Managed CTP workflow system
MBO B26 Perfection 6/6/4 with gate fold
MBO 123(23) 4/4/4 with gate fold
Stahl B19 4/4
All equipped with Technifold Scoring
Polar 137XT System II
Polar 76EM
Muller Martini 335 5-pocket plus cover feeder, 4th/5th knife capability
and oversize trimmer maximum size 12x18.5
Mailing and Fulfillment Service Available
Western Trade Printing, Inc.
5695 E. Shields Ave.
Fresno, CA 93727
Phone: (559) 251-8595
Fax: (559) 251-2107
Contact
Bob Gardner